Digital Implant is the application of advanced digital implant technology through the process of reconstructing X-ray images in three dimensions in space to check the condition of bones and nerve position. With this information, your doctor will plan an operation with minimal risk restrictions and ensure the transplant is as accurate as possible.
1. Outstanding advantages of digital dental planting
Compared to conventional implants , digital dental implant technology has outstanding advantages:
The high-tech system will use the data collected and plan the most accurate treatment and restoration. Carry surgical and prose instructions (temporary and final prose) designed from scratch to ensure the aesthetic needs of the patient after implant placement.
Use 3D computer simulations to check the condition of the bones and the location of the nerves. With this information, the doctor will plan an operation with minimal incision. Since digital implant surgery focuses on making the smallest incision possible, there will be less pain than a conventional implant.
The doctor's digital implant will be 100% accurate after it has been done, meets 2 correct diagnostic steps and outlines a detailed treatment regimen. Implant pillars are inserted and the jaw bone according to the pre-calculated position, non-invasive and shortens the healing time, bone integration.
2. Benefits from Digital Dental Implants
No pain, little bleeding, quick recovery.
Absolute accuracy.
Implants are compatible quickly with the body, ensuring safety.
Safe for customers with chronic diseases such as diabetes, high blood pressure, cardiovascular …
Learn more: Price list of Implants

Read more: Case against implant consolidation, advice from Dentist Flora
3. Flora Dentistry – prestigious digital implant address
3.1 Experienced medical team of dental implants
Directly perform implants with Dr. Nguyen Dac Minh specializing in molars, dental implant certificates from the Central Dental Hospital, members of the World Implant Association – ICOI and also a member of the Swiss Implant Association – ITI.
3.2 Possessing modern equipment, advanced technology
At Flora Dentistry owns many modern equipment, advanced technology to ensure quality to perform for the most perfect dental implant: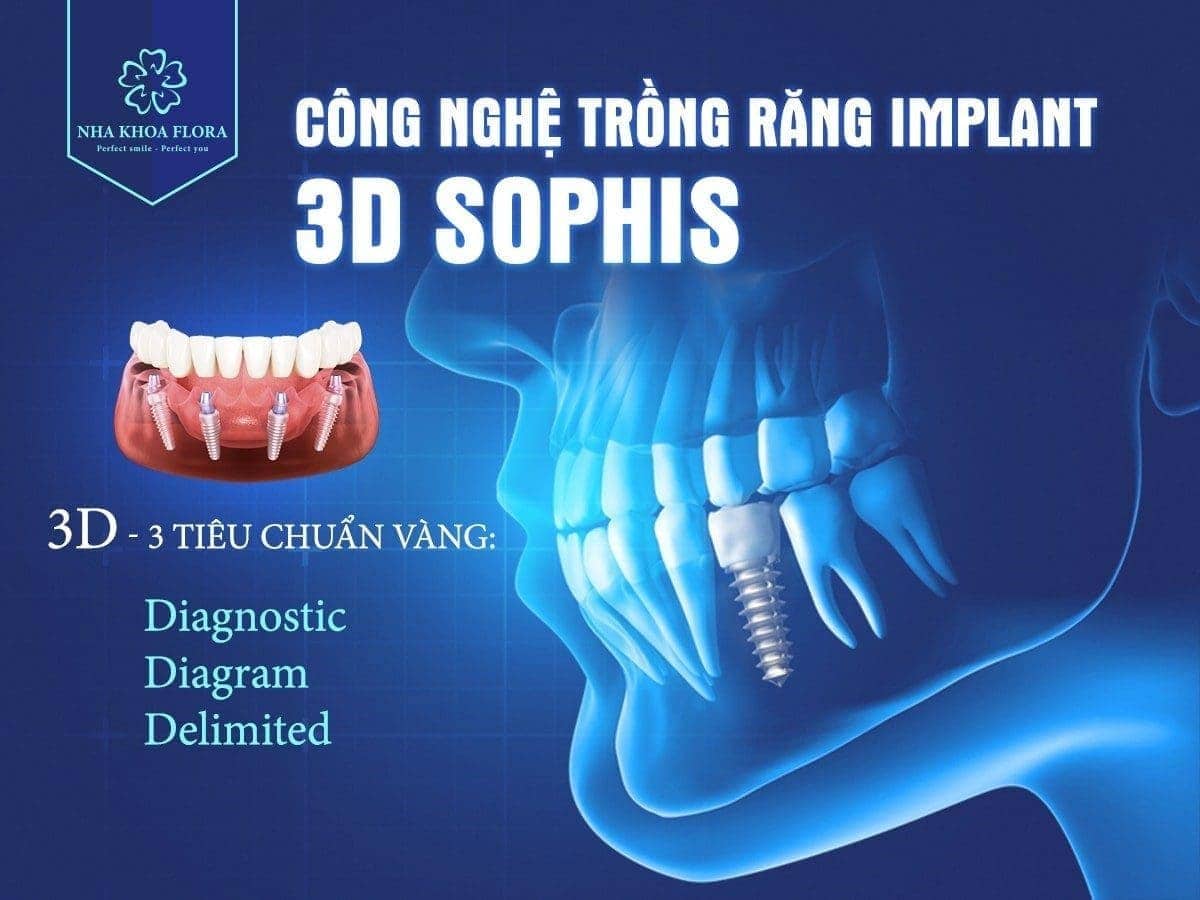 CT Cone Beam 3D Modern Molar Imaging Diagnostic Equipment.
The device supports implant-PenguinRFA stability assessment.
Modern sterile system according to the standards of the Ministry of Health.
3.3 Genuine warranty of dental implants from many famous brands
The most commonly used types of implants in Vietnam
Straumann-Switzerland Implant Pillar: Lifetime Warranty.
Implantswiss-Switzerland: Lifetime warranty.
Tekka-French implants: Lifetime warranty.
Dentium-USA implant: 15-year warranty.
Dentium-Korea implant: 10-year warranty.
Choose digital dental as well as Flora dentistry to have a better quality of life than you. For more useful information from the teeth, do not hesitate to call us immediately via the hotline 02873058999.