INVISALIGN TRANSPARENT BRACES
Invisalign transparent braces are gradually becoming a new trend of widespread coverage thanks to ensuring aesthetics, comfort, efficiency. Are transparent braces good, do transparent braces hurt, how much do transparent braces cost? This article will help you clarify.
In cosmetic braces, what worries you the most? Entanglement, discomfort or inconvenient eating? 87% of Vietnamese people have crowded teeth, wrong bites, irregular shoving. Many people have chosen braces to avoid dental diseases or difficulties in eating and hygiene. The rest choose braces to meet aesthetic needs. Invisalign brace tray system throughout was born as a breakthrough in braces technique. When they can meet three factors:
"
TRANSPARENT – COMFORTABLE – PRONOUNCED TOOTH DISPLACEMENT
"

HOW ARE INVISALIGN TRANSPARENT BRACES DIFFERENT FROM BRACES?
What are transparent braces?

Clear aligner
, also known as invisible braces, is the most modern form of braces, achieving the highest aesthetics to date. This technique uses braces with specialized plastic materials, transparent, solid and capable of shifting teeth according to the pre-planned route.
In which the transparent Invisalign brace tray is the most optimal type of brace tray and is widely used all over the world. Apply the most advanced digital technology to transmit the correlation information between the teeth and jaw bone into the computer. From there a detailed treatment plan will be put in place. It is accompanied by a system of necessary braces created, personalized for each person. To move your teeth according to the route from your original location to your desired location. You get a preview of the course and results of treatment through 3D imaging.

Invisalign transparent braces
are suitable for those who require high aesthetic requirements, do not want to reveal braces when braces. Invisalign transparent braces trays completely replace traditional braces with many distinct advantages.
Comparison of Invisalign transparent braces and traditional braces
| | | |
| --- | --- | --- |
| Differences | Braces | Invisalign Transparent Braces |
| Operating principles | Use the bow, braces and orthodontic elastic bands to pull the orthodontic back to the correct position. | Use a transparent plastic tray system without the need for braces or braces. |
| Aesthetics | Exposing braces and braces. | Throughout, look closely and carefully. |
| Flexibility | Fixed on teeth, non-removable | Can be removed, brought in flexibly. Just make sure the right amount of time to wear the tray/ trough as prescribed by the doctor. |
| Safety | Braces can rub against the lips or cheeks causing scratches and damage. Metal braces can cause irritation in the mouth environment. | Do not cause discomfort, irritation or any damage to the sensitive soft tissue area in the mouth. |
| Convenience | Difficulty eating and cleaning the teeth. | When eating or cleaning your teeth, you will remove it. All activities are as convenient as normal. |
| Travel requests | Ask for a visit to the dentist every 2-4 weeks. | Only visit the dentistry ~10 times during the treatment. |
EFFECTIVENESS RATING: ARE TRANSPARENT BRACES GOOD?
The aesthetic advantages and experience that Invisalign transparent braces bring are undeniable. So do transparent tray braces work? Are transparent braces good?
Previously, invisalign transparent braces trays were only suitable for cases of mild misalignment, interstitial teeth, slight bite errors. In general, braces with simple properties. However, up to now, with the continuous development, Invisalign has been designated for all cases of wrong bites, chanting, muffling, shoveling, … and gives a pronounced, fast effect like braces.
In addition, in the latest survey from the American Dental Association, for simple orthodontic cases, Invisalign braces are more effective faster than traditional braces. In many cases, the time is shortened by up to 30%. This effect is due to the close-fitting nature of the invisalign transparent braces. Thereby shifting the teeth of the whole group and for a faster and more pronounced effect.
For medium and complex orthodontic cases, the duration of treatment will be equivalent to braces. Whether this time is short or long depends on the condition of each person's teeth.
SENSORY ASSESSMENT: DOES TRANSPARENT BRACES HURT?
The strongest point of Invisalign transparent braces compared to traditional braces is the experience it gives users. Invisalign transparent braces trays are made personalized for each person, so it will closely fit the crown. This does not suppress or have any effect on the gums.
The appearance of braces is also removed, overcoming the condition of rubbing against the cheeks, lips causing scratches, damage even bleeding.
The condition is also significantly reduced compared to braces. However, to move the teeth still need to create force to force the teeth to the right place. Therefore, when you first wear a transparent tray/ brace trough, you will also experience a slight condition of ê or teeth. This feeling will subside after your teeth move to a new position.
The process of cleaning your teeth also becomes easier when you can remove the brace tray easily every time you eat and brush your teeth. Thorough dental hygiene will help you eliminate the risk of gingivitis, bleeding root teeth causing prolonged lingering.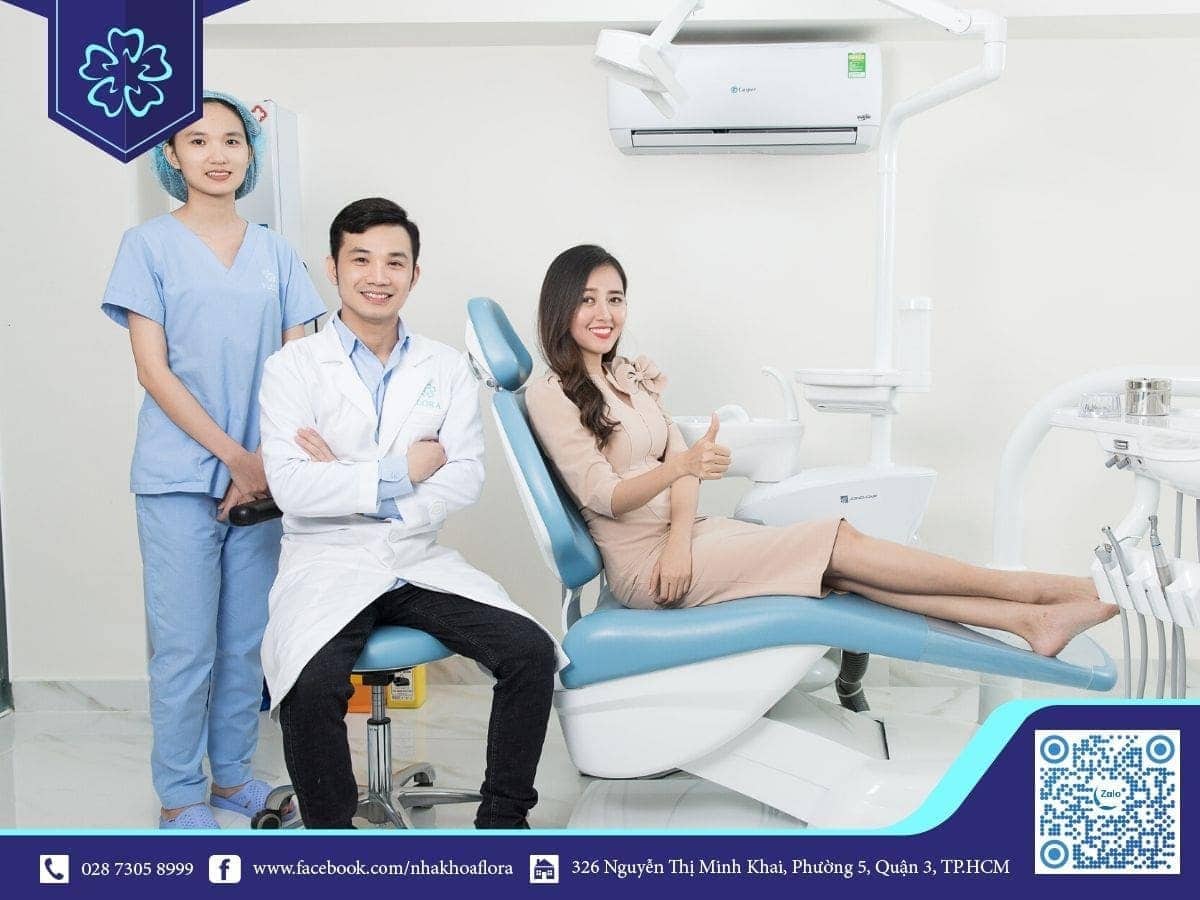 INVISALIGN TRANSPARENT BRACES PROCEDURE AT FLORA DENTISTRY
Unlike metal braces or porcelain braces, Invisalign transparent braces have separate procedures. Based on the inseparable link between Flora Dentistry and Align Technology. The specific process is as follows:
General examination, assessment of oral condition.
X-ray, 3D dental traces, sending data to build a 3D treatment roadmap (in the US).
Preview treatment results through 3D imaging and Clincheck video.
Attach attachment and receive the first set of Invisalign brace trays (replace the brace tray every 02 weeks).
Wear a tray for 20-22 hours a day and re-see your doctor's appointment.
Wear a maintenance trough after the end of the Invisalign treatment route as prescribed by the doctor.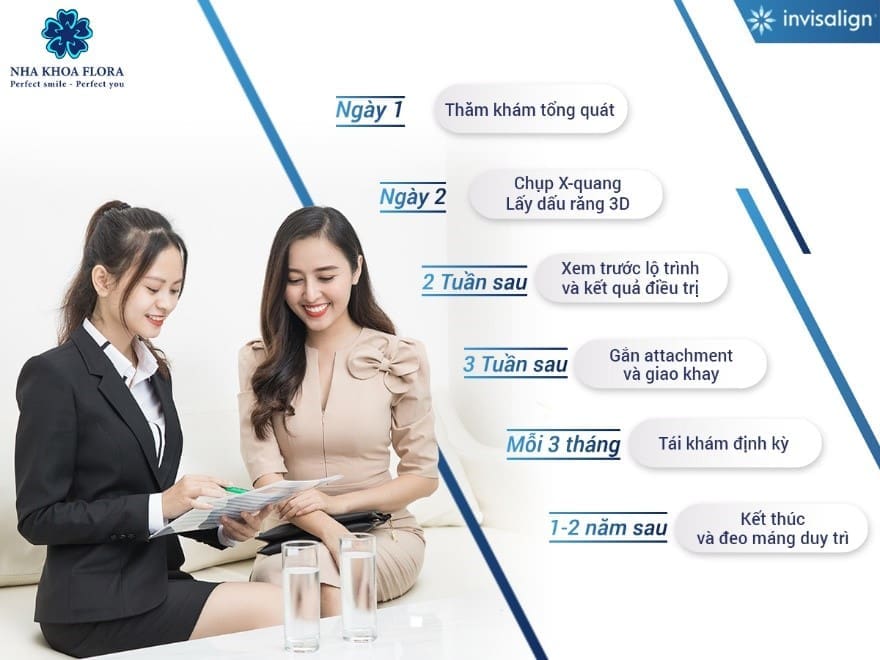 HOW MUCH DO TRANSPARENT BRACES COST?
Currently on the market there are many different forms for transparent braces. They differ mainly in terms of plastic materials used, tooth displacement technology. Therefore, there will be the appearance of many different prices that make it difficult for you to choose. So how much does transparent braces cost ?
At
Flora Dentistry
, we use the world's leading transparent orthodontic system from Invisalign. The effect has been proven by 8 million people worldwide. The price of transparent braces will depend on the condition of your teeth. And divided into 4 different levels as follows:
| | | |
| --- | --- | --- |
| Service | Unit | Cost |
| Invisalign Transparent Braces Level 1 | Package | 60.000.000 |
| Invisalign Transparent Braces Level 2 | Package | 80.000.000 |
| Invisalign Transparent Braces Level 3 | Package | 100.000.000 |
| Invisalign Transparent Braces Level 4 | Package | 120.000.000 |
See more >>
Price list of braces at Flora Dentistry

Invisalign transparent braces at Flora Dentistry will be a well-deserved investment. It offers a completely invisible and different braces experience. Special:
Free X-ray, 3D dental markings
Free up treatment regimen, simulation and preview of results
TRANSPARENT BRACES PAID IN INSTALLMENTS AT FLORA DENTISTRY
Compared to metal braces, porcelain braces, Invisalign transparent braces are more expensive. Because the great benefits it offers are superior, both aesthetically and sensory and experiential. However, not everyone is financially qualified to use invisalign transparent braces. Therefore, at Flora Dentistry, we apply the 0% interest instalture program with many utilities:
Credit card installments – supporting more than 23 banks in Vietnam
0% interest rate
No instaltal charges
No upfront requests
Customers have the option of installment term: 3 months, 6 months, 9 months or 1 year.
How can Flora help your teeth change?