In the structure of a complete implant, the Abutment Implant coupling between the main role creates the connection between the implant pillar and the porcelain crown. Through the article below Flora Dentistry will provide more knowledge about Abutment Implant coupling.
1. What is Abutment Implant coupling?
Abutment Implant is an coupling used to connect the implant pillar on the inside of the jaw bone and the crown of the porcelain crown above. Therefore, Abutment is a component of a complete implant.
2. The structure and characteristics of Abutment
The structure of Abutment
Abutment in implants is made from a form of metal or porcelain compound of various shapes. Usually, they are cylindrical in shape and have 2 connectors on the bottom:
Abutment's lower connection is designed closely to the implant's mouth. They are tightly screwed with implants when this pillar has successfully integrated with the patient's jaw bone.
The other end is the upper end of the coupling, which will be fastened and fixed to the porcelain tooth stem. The Abutment joint helps to support the denture body, forming a complete tooth like a real tooth.
Characteristics of Abutment implant
Abutment coupling plays an important role in the implant process. It is the connection between the implant and the porcelain crown.
Usually, Abutment couplings have two common forms:
Straight couplings are mainly used with molars with the aim of increasing the bearing capacity like real teeth.
Custom couplings to match the tooth position, bring aesthetic appearance to the in front teeth, help the teeth have a natural curvature, warping like real teeth.
3. Advantages of Abutment coupling
Each type of coupling will have its own advantages, based on the condition of the teeth and the financial ability of each customer to make the right choice. Here are some of Abutment's advantages:
Abutment is attached to the implant pillar, hugging the edge of the gums, giving the feeling that real teeth grow from the gums, bringing high aesthetics, the teeth look natural like real teeth. It is difficult for the other person to know if you plant dentures during communication.
Ensuring high compatibility because titanium material, Abutment will create high bio compatibility, minimizing irritation and allergies for customers.
The design of Abutment is suitable for the position of the tooth to be restored (in front or molars), which helps to adapt well to each function of the tooth, ensuring firmness during chewing and aesthetic function.
The life expectancy of Abutment is maintained long. If taken care of well, it can be used for life.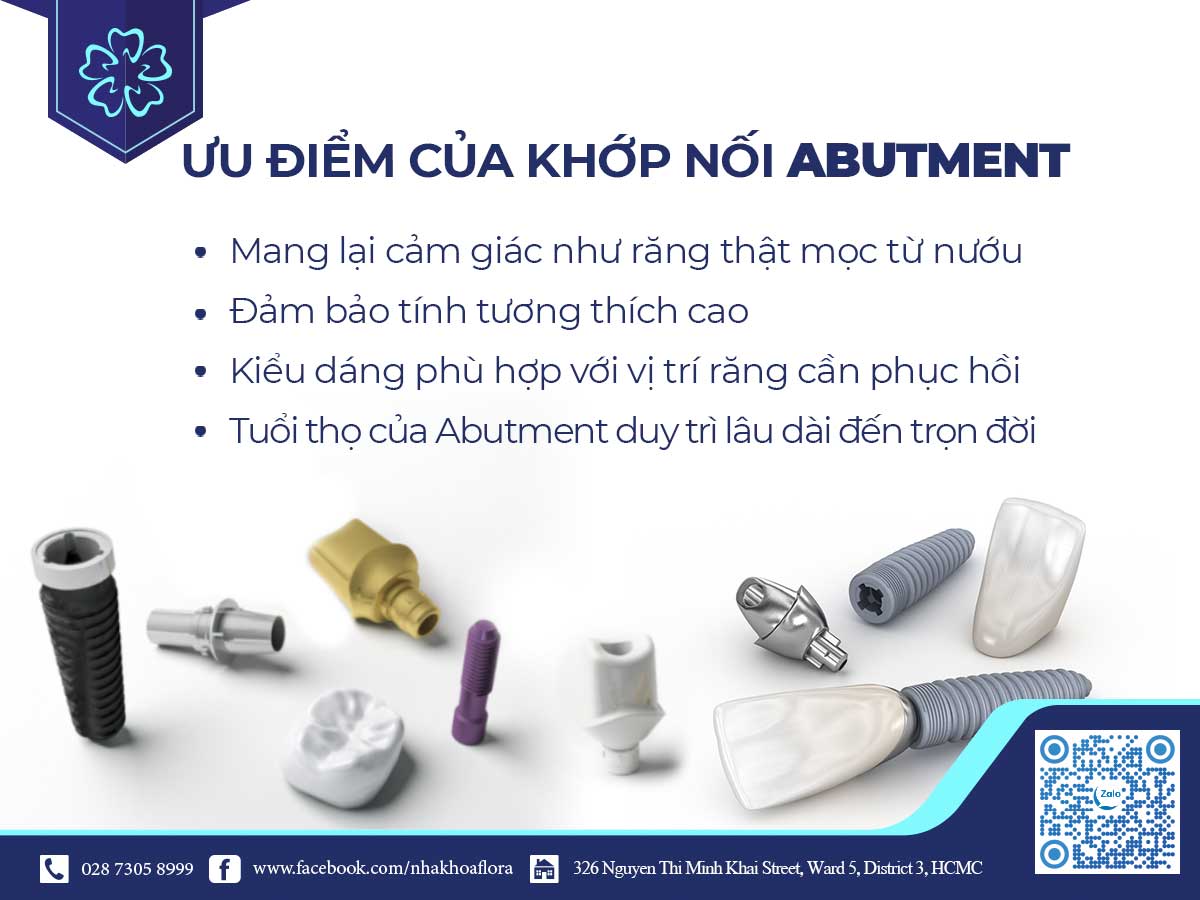 4. How much does Abutment Implant cost at Flora Dentistry
Normally, the cost of dental implants will be calculated in a package including: Price of implant pillar material + abutment joint + type of porcelain crown.
At Flora Dentistry, customers when buying implants will be accompanied by a genuine Abutment coupling of the right product.
This helps the dental implant structure of the customer to be ensured the most sustainable.
Read more details about the price of implants through the price list here:
| | | |
| --- | --- | --- |
| Service | Unit | Cost |
| Dentium Quality Implant Pillar | 1 Pillar | 13,000,000 |
| Trụ Implant France Tekka | 1 Pillar | 23,000,000 |
| Implant Pillar France Tekka (jawbone 4-6mm low, porous bone) | 1 Pillar | 24,000,000 |
| Mini Implant Pillar | 1 Pillar | 8,000,000 |
| Implant Pillar USA | 1 Pillar | 21,000,000 |
| Swiss Implant Pillar Switzerland | 1 Pillar | 27,500,000 |
Read more: What is dental implants?

Learn more: Price list of Implants