Zygoma Implant are different from conventional dental implants in that they are more closely attached to the cheekbones than to the upper jaw of the teeth. To learn more about cheekbone implants, let's see the article below.
Relatively new treatments
Zygomatic implants are considered a relatively new advance in dental implant technology. They were developed in the late 1990s by the father of dental implants, Dr. Per Ingvar Branemark. Since being introduced into the world of dental implants, zygomatic implants have become popular because of their effectiveness for patients who do not qualify for dental implants.
What is a Zygoma Implant cheekbone?
This method is aimed at restoring patients who have lost all their teeth by implanting implants in the upper jaw bone and combining the cheekbones of the patient to restore chewing function, aesthetics. Normally, the number of cheekbone implants from 2-4 pillars is for the upper jaw.
Subjects of cheekbone implants include:
People who have lost all their teeth but have atrophy in the teeth
Implants in the back teeth to avoid invasive sinus procedures and bone grafts
Used as a substitute for sinus lifts, bone graft failures
People with severe upper jaw bone dissolidation, failure after a routine sinus implant
People who have jaw bone removed after cancer treatment or have facial deformities
Advantages of Zygoma Implant CheekBone
Cheekbone implant implants are performed with general anesthesia. The full set of teeth will be connected to the implant pillar after only 1-3 days. The advantages of cheekbone implants include:
Reduce the number of surgeries, shorten hospital stays
Allow patients with permanently fixed teeth
Improve appearance, teeth and gums look natural, confident
Eat like real teeth.
No pain on the denture and long-term tooth support
Chewing rehabilitation for people with jaw spine dissection and unable to implant in the usual way
Avoid bone grafting complications in the respective areas
Reduce complications as well as reduce the number of implants that support the front tooth area due to the stable implant blocking anchor achieved in the cheekbones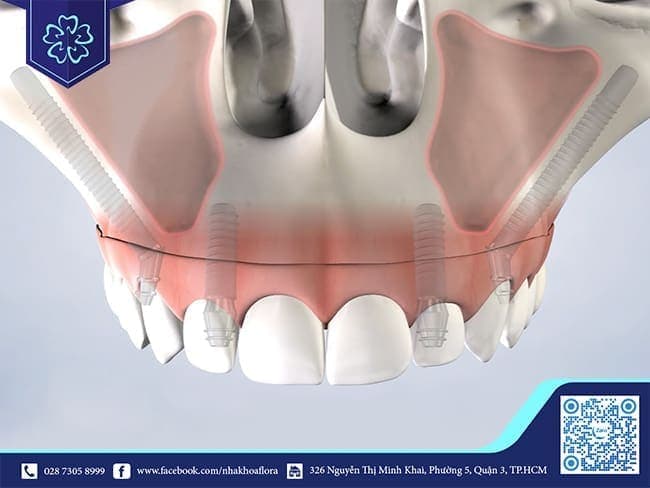 Cheekbone implant surgery is a difficult method because the implant route is long, located near important anatomical structures, so the doctor must have the skills and experience to avoid damage to these important structures, bringing high and long-term success results.
Therefore, when you want to perform a cheekbone implant to restore the loss of all teeth and severe bone loss, you should note the choice of prestigious dental address, the expertise of the doctor must be good, modern medical equipment to prevent many complications from which the success rate of treatment will be very high.
Hopefully with the above information from Flora dentistry will help you about the Zygoma Implant service. For advice as well as oral health advice from experts, please contact us immediately.