The treatment of cleft smile is a method of eliminating the defects of the person with an open smile in favor of the gums of the jaw is exposed much causing loss of aesthetics, lack of confidence. People with this defect often want to find a beautiful smile again, but when they find out they do not know the gum-exposed smile treatment is called minor surgery or surgery in dentistry. So through the article below, Flora Dentistry hopes that you will find a satisfied answer.
1. What is minor surgery?
Minor surgeries are called small surgeries, performed without anesthesia but only on the spot. Before minor surgery, a blood test is required to ensure a normal blood formula and blood clotting ability.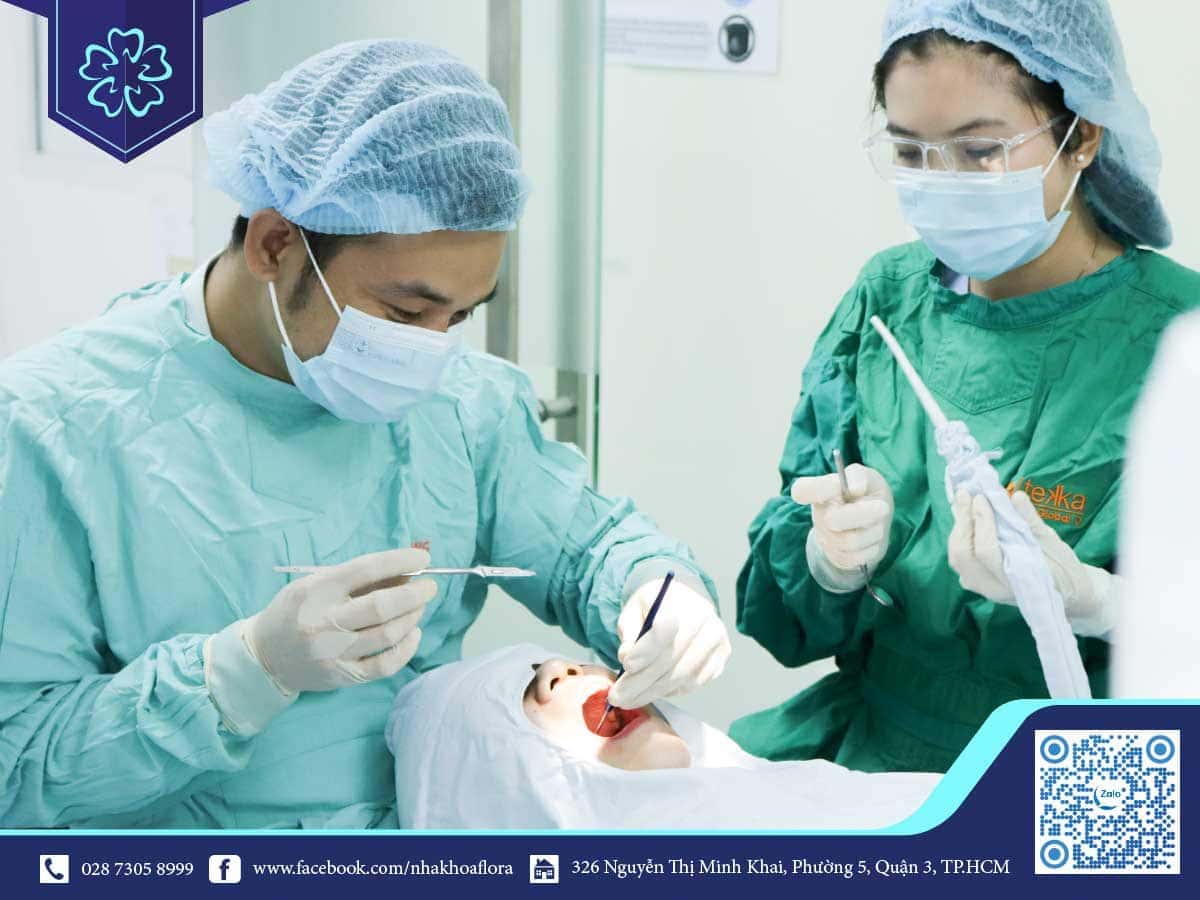 2. Gum-free laughter surgery in dentistry
Gum removal is a minor surgery in dentistry, which will not invade the tooth structure. Therefore, not everyone can have open gum surgery, usually cosmetic gum cutting is indicated with the following cases:
Long gums cover the crown of the teeth making the teeth look too short
Gums thrive because of long-term antibiotic use
The upper jaw bone is oversized, the short upper lip makes the gums laugh.
This is just a simple surgery, short time so it will not endanger the customer. However, there are still cases of many complications after minor surgery to treat open gum laughter.
Read more: Price list for smile treatment

Learn more: 3 ways to treat gum laughter
3. Why are there complications after the treatment of cleft laughter
The main cause of complications after gum laughter treatment This is because customers do not know about prestigious dentistry, inexperienced dentists, equipment is not modern … Therefore, during minor surgery, it is easy to make many errors and leave complications after minor surgery as follows:
If the dentist does not clean the surface of the root after the gum removal and complete bone shape, there is a risk of laughing at the gums again.
Using poor-quality un-modern facilities can cause prolonged bleeding or open rewards from an infected minor surgery that causes many other dental pathologies.
4. Choose a reputable dental address for the treatment of cleft laughter
Flora Dentistry always receives credibility, is a prestigious smile and smile treatment address in Ho Chi Minh City thanks to:
Treatment within 30 minutes
Good luck after 72:00.
It's perfectly normal after treatment.
No less swelling is hard to notice.
Application of exclusive pain control system
Done by a highly skilled doctor.
Over the years, Flora Dentistry has treated gum cleft smiles that have yielded perfect results for more than 1000 customers. In particular, 90% of cases thoroughly overcome laughter, the remaining 10% overcome up to 95% of smiles.