Invisalign invisible braces are favored by its high aesthetics, easy to remove and bring convenience and comfort to users. At Flora Dentistry, it is applicable to customers to transparent braces. The article below will help customers better understand invisible braces at Flora Dentistry.
Invisible braces, also known as clear aligners, are the most modern and aesthetically pleasing braces to date. This technique uses a specialized, transparent, sturdy plastic brace tray and capable of shifting teeth according to the predelined route.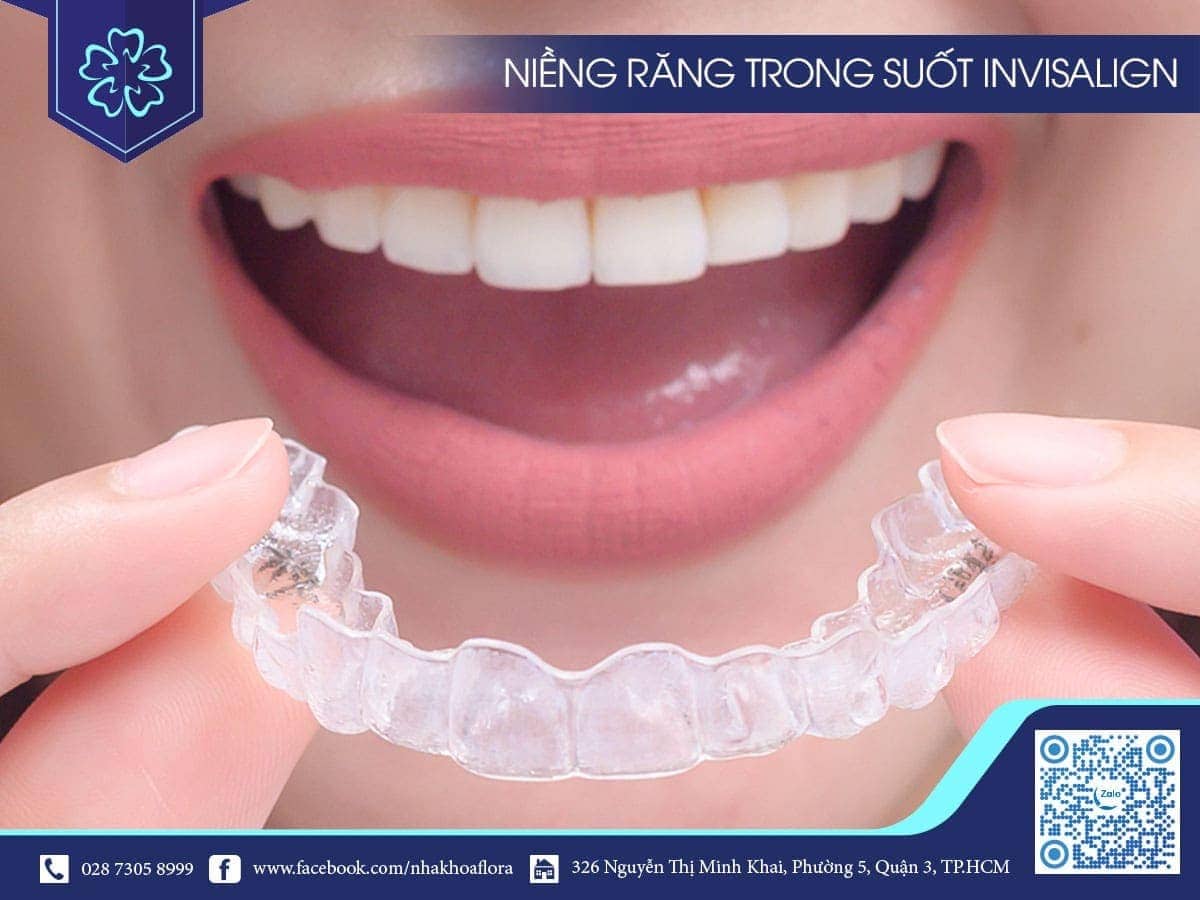 In which the transparent Invisalign brace tray is the most optimal type of brace tray and is widely used all over the world. Apply the most advanced digital technology to transmit the correlation information between the teeth and jaw bone into the computer. From there a detailed treatment plan will be put in place.
In addition, the system of necessary braces will be created and personalized for each user. To move your teeth according to the route from your original location to your desired location. You get a preview of the course and results of treatment through 3D imaging.
2. Invisible orthodontic procedure applied at Flora Dentistry
Unlike metal braces or porcelain braces, Invisalign transparent braces have separate procedures. Based on the inseparable link between Flora dentistry and Align Technology. The specific process is as follows:
General examination, assessment of oral condition.
X-ray, 3D dental marks, sending data to build a 3D treatment roadmap (in the US).
Preview treatment results through 3D imaging and Clincheck video.
Attach attachment and receive the first set of Invisalign brace trays (replace the brace tray every 02 weeks).
Wear a tray for 20-22 hours a day and re-examine your doctor's appointment.
Wear a maintenance trough after the end of the Invisalign treatment route as prescribed by your doctor.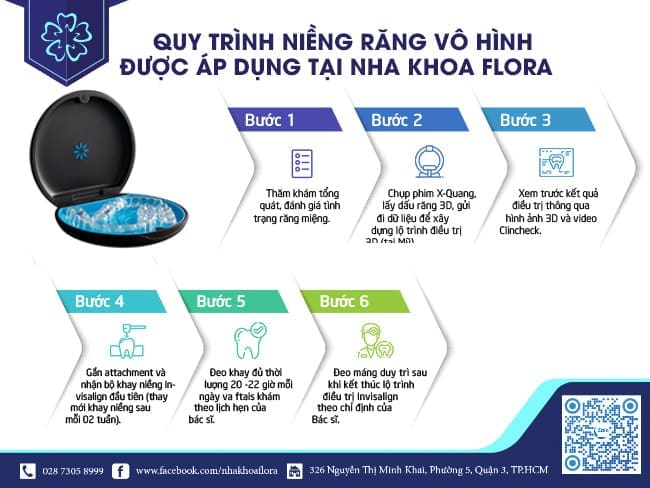 Invisible braces at Flora Dentistry will be a well-deserved investment. It's a completely invisible braces experience that's not there and truly different.
Especially when braces at Flora dentistry are also free:
X-ray, 3D tooth mark.
Free up treatment regimens, simulations, and previews of results.
Read more: What kind of braces flora does?
3. Invisible braces paid in installments at Flora Dentistry
Compared to metal braces, porcelain braces, invisible braces cost about 3 times more. Because the great benefits it offers are superior, both aesthetically and sensory and experiential. However, not everyone is financially qualified to use invisible braces trays, understanding that Flora dentistry applies an invisible orthodontic program with 0% interest instalmation with many utilities:
Credit card installments – supporting more than 23 banks in Vietnam
0% interest rate
No instaltal charges
No upfront requests
Customers have the option of installment term: 3 months, 6 months, 9 months or 1 year
Hopefully with the above information about invisible braces, readers have a better understanding of this service. Come to Flora Dentistry to have teeth and a beautiful smile through 326 Nguyen Thi Minh Khai Q3!